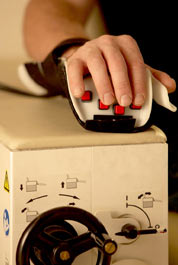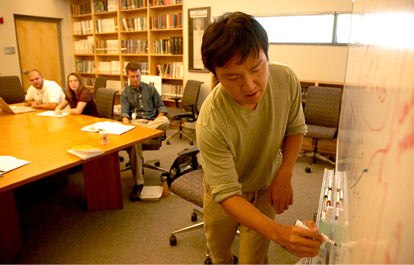 COBRE Phase 3 //
OVERVIEW - MULTIMODAL IMAGING OF NEUROPSYCHIATRY DISORDERS (MIND)

---
2023 MRN MIND COBRE Pilot Project Proposal Announcement
The Mind Research Network is soliciting multidisciplinary Pilot Projects applications for our NIGMS-funded Multimodal Imaging of Neuropsychiatric Disorders Center of Biomedical Research Excellence (MIND COBRE). Projects that synergize across existing initiatives in psychosis, traumatic brain injury, aging, substance abuse and neurodevelopment are especially encouraged, and can be clinical or preclinical in nature. Preference will also be given to applications that include neuromodulation and/or more innovative data collection methods to increase the likelihood of future grant success. The maximum award is up to $35,000 in non-scan direct costs, and up to $25,000 in scan direct costs, with an opportunity for competitive renewal for especially promising projects. The pilot project program is designed to provide one year of support and training for investigators (individuals with a PhD and/or MD/DO) at any level, with the exception of post-doctoral fellows. A full description of the application can be found here: Guidelines for Proposal Submissions
---
INTRODUCTION
The Mind Research Network NIGMS-funded Multimodal Imaging of Neuropsychiatric Disorders Center of Biomedical Research Excellence (MIND COBRE) Phase III Program aims to support multidisciplinary pilot projects that fit within or expand upon the existing MIND COBRE infrastructure and its theme of multimodal imaging of neuropsychiatric and neurological illnesses. The Phase III program is particularly interested in supporting pilot projects that synergize across existing initiatives in psychosis, traumatic brain injury, aging, substance abuse and neurodevelopment, leverage neuromodulation, or introduces new innovative techniques to the institute.
CORES
The Phase III COBRE program supports three research cores:
MDA: Multimodal Data Acquisition (MRI/MEG)
ADA: Algorithm and Data Analysis
BNI: Biostatistics and Neuroinformatics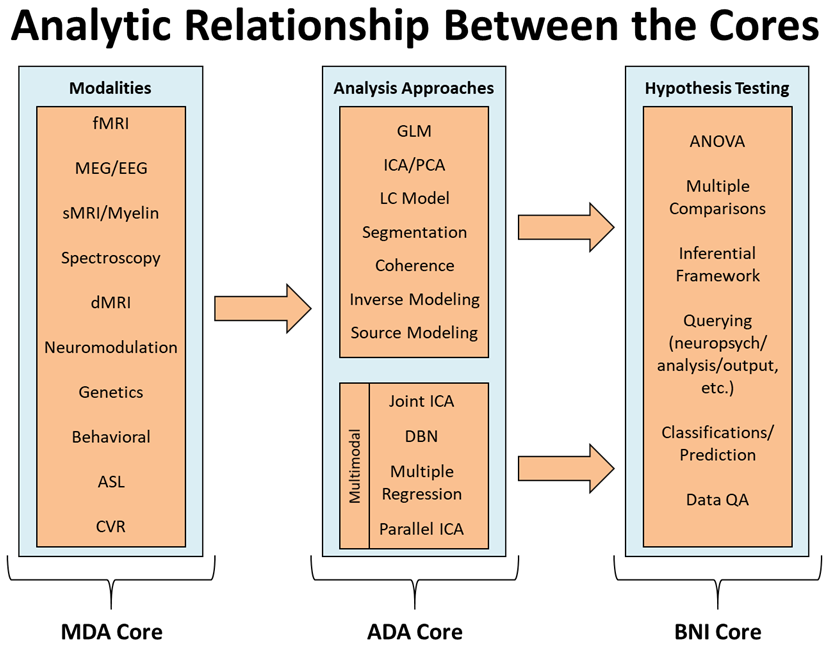 An administrative core works to support the overall operation of the COBRE Phase III program. The MIND COBRE is headquartered at MRN, located in the Pete and Nancy Domenici Building on the North UNM campus, and is led by Dr. Andrew Mayer. Dr. Mayer, along with an internal advisory committee, external advisory committee, and a faculty development committee work to foster pilot projects and PIs across MRN, UNM, and other research facilities in New Mexico.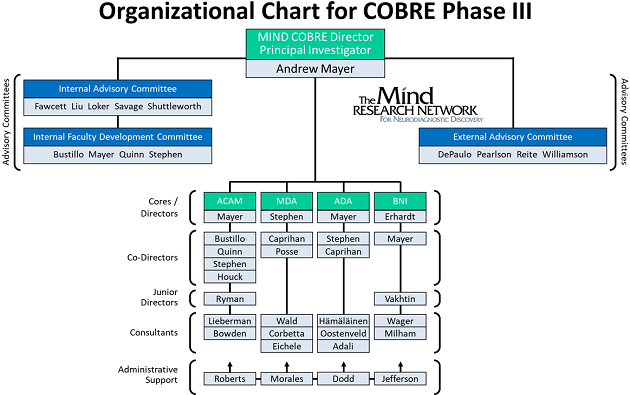 The aims of the Phase III COBRE are twofold:
Scientific:

To bring together a cadre of investigators with diverse neuroimaging expertise who will work together to combine multiple imaging technologies (e.g., sMRI, fMRI, dMRI, MRS, EEG and MEG) to provide an unprecedented understanding of the neuropathology underlying multiple neuropsychiatric disorders.
To provide these investigators with technological, cognitive neuroscience, and clinical research backgrounds to enhance interdisciplinary and translational research opportunities in New Mexico.
To apply these scientific resources to the study of our unifying theme (biomarkers in psychosis and mood disorders) in five interrelated projects led by junior investigators who will be mentored by senior scientists.

Administrative:

To expand the capability of our facilities and continue to combine the unique resources of MRN with clinical, technological and cognitive expertise in NM to strengthen and grow the diversified neuroimaging research environment and to create a program that will continue to be competitive nationally and internationally.
To strengthen the mentorship opportunities for junior investigators, post-docs and graduate students who work in the New Mexico environment.
To continue to build a cohesive and collaborative program within which interdisciplinary and translational research can be conducted, including a P50-level center grant that will be submitted in Year 3 of the Phase III award.
MRN houses state-of-the-art imaging infrastructure to support the scientific aims of the Phase III Research program:
306 channel Elekta Neuromag MEG System
128-channel BioSemi ActiveTwo electrophysiology system (EEG)
Siemens Avanto 1.5T mobile MRI System
Siemens 3T Prisma MRI System with Total Imaging Matrix (TIM) Application Suite
MRN also provides data processing and management support to investigators through a centralized neuroinformatics system, a strong IT management plan, and state-of-the-art image analysis tools.
Support of the administrative aims is accomplished through regular meetings between the COBRE PI, the core directors and investigators. This multidisciplinary team of experts, coupled with MRN's unique imaging and data analyses resources, works together to support the overall goals of the Phase III MIND COBRE program.
Copyright © 2019 The Mind Research Network.
A 501(c)(3) Non-Profit Organization