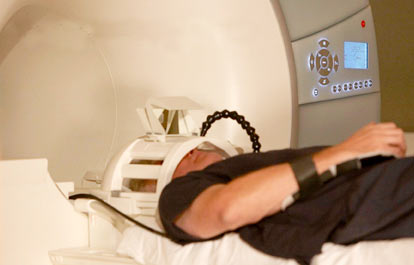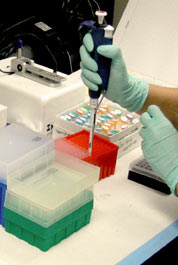 COBRE Phase 3 //
OVERVIEW - MULTIMODAL IMAGING OF NEUROPSYCHIATRY DISORDERS (MIND)

INTRODUCTION
Phase III COBRE is a natural extension of phase I and phase II COBRE projects in Schizophrenia. Multimodal imaging techniques are used in COBRE III to study the neuromechanisms of psychosis and mood disorders, and more broadly in other psychiatric and neurological disorders. The Phase III COBRE will provide support to outstanding pilot projects. The pilot projects each focus on distinct, but related, aspects of psychiatric and neurological disorders.
CORES
Phase III COBRE has four cores:
* Administrative (ADMIN)
* Multimodal Data Acquisition (MDA)
* Algorithm and Data Analysis (ADA)
* Biostatistics and Neuroinformatics (BNI)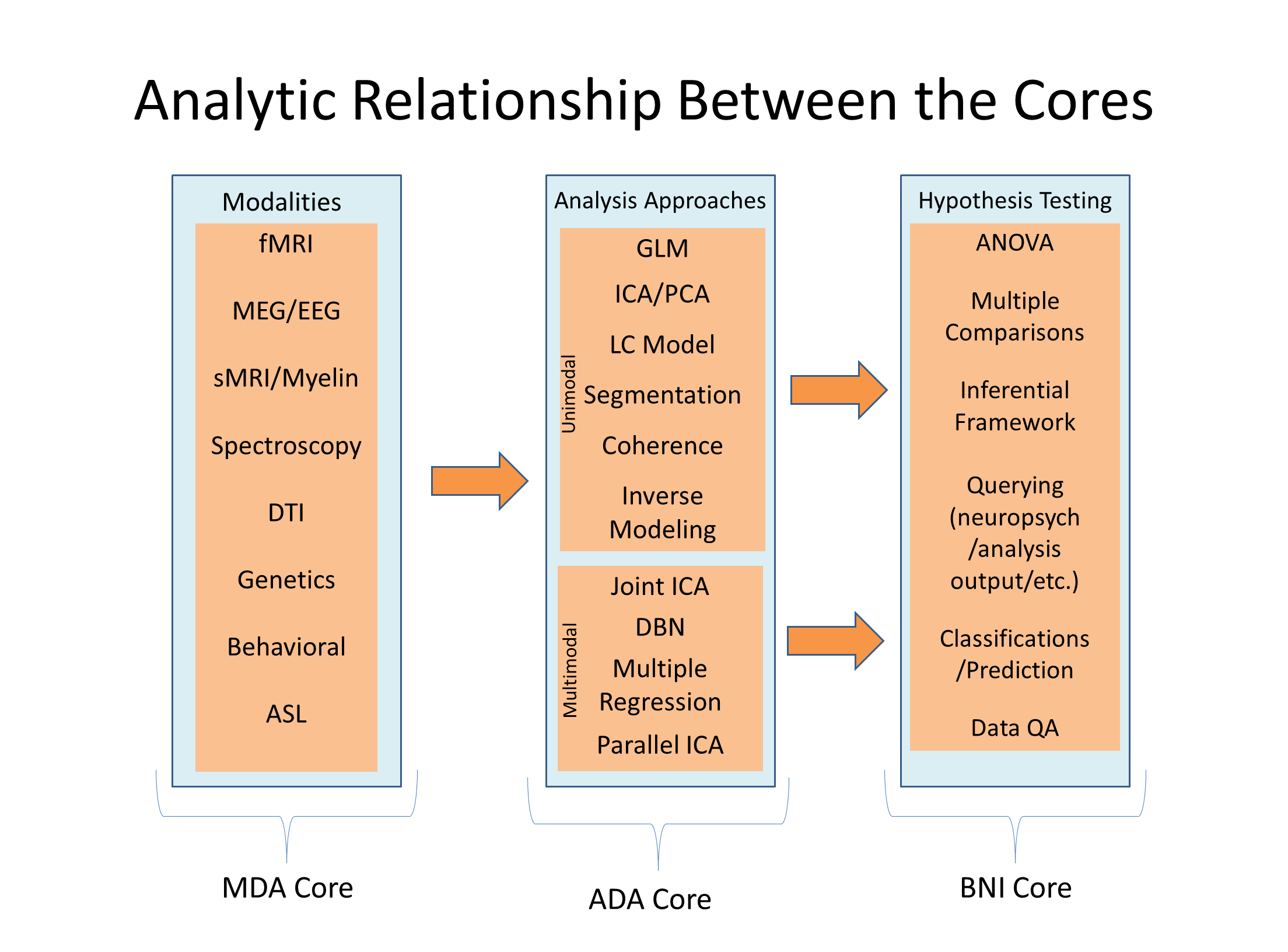 The four cores are located at the MIND Research Network (MRN) in Pete and Nancy Domenici Hall. Dr. Vince Clark serves as the principal investigator (PI) of this COBRE. Integration between MRN and UNM is achieved by Dr. Clark holding dual roles as an MRN PI and a tenured UNM Professor with appointments in Psychology and Neurosciences.
MRN
MRN houses outstanding imaging resources that support this COBRE: a 306 channel Elekta Neuromag MEG System, a state-of-the-art high-density electroencephalography [EEG] lab, a mobile research 1.5T Siemens scanner, and an in-house 3T Siemens Prisma scanner. MRN also provides data processing and management support to investigators through a centralized neuroinformatics system, a strong IT management plan, and state-of-the-art image analysis tools. Administrative leadership is provided by regular meetings between the COBRE PI, the core directors, and investigators. This multidisciplinary team of experts, with MRN's unique tools at their disposal, will apply their eight years of experience from Phases I and II to examine the neural mechanisms of multiple neuropsychiatric and neurological disorders and their treatment using a data-driven approach.
AIMS
The specific aims for this COBRE fall into two broad groups: Scientific and Administrative.
Scientific:
1. To bring together a cadre of investigators with diverse neuroimaging expertise who will work together to combine multiple imaging technologies (e.g., sMRI, fMRI, DTI, MRS, EEG and MEG) to provide an unprecedented understanding of the neuropathology underlying multiple neuropsychiatric disorders.
2. To provide these investigators with technological, cognitive neuroscience, and clinical research back-grounds to enhance interdisciplinary and translational research opportunities in New Mexico.
3. To apply these scientific resources to the study of our unifying theme (biomarkers in psychosis and mood disorders) in five inter-related projects led by junior investigators who will be mentored by senior scientists.
Administrative:
1. To expand the capability of our facilities and continue to combine the unique resources of MRN with clinical, technological and cognitive expertise in NM to strengthen and grow the diversified neuroimaging research environment and to create a program that will continue to be competitive nationally and internationally.
2. To strengthen the mentorship opportunities for junior investigators, post-docs and graduate students who work in the New Mexico environment.
3. To continue to build a cohesive and collaborative program within which interdisciplinary and translational research can be conducted including a P50-level center grant that will be submitted in year 3 of the Phase III award.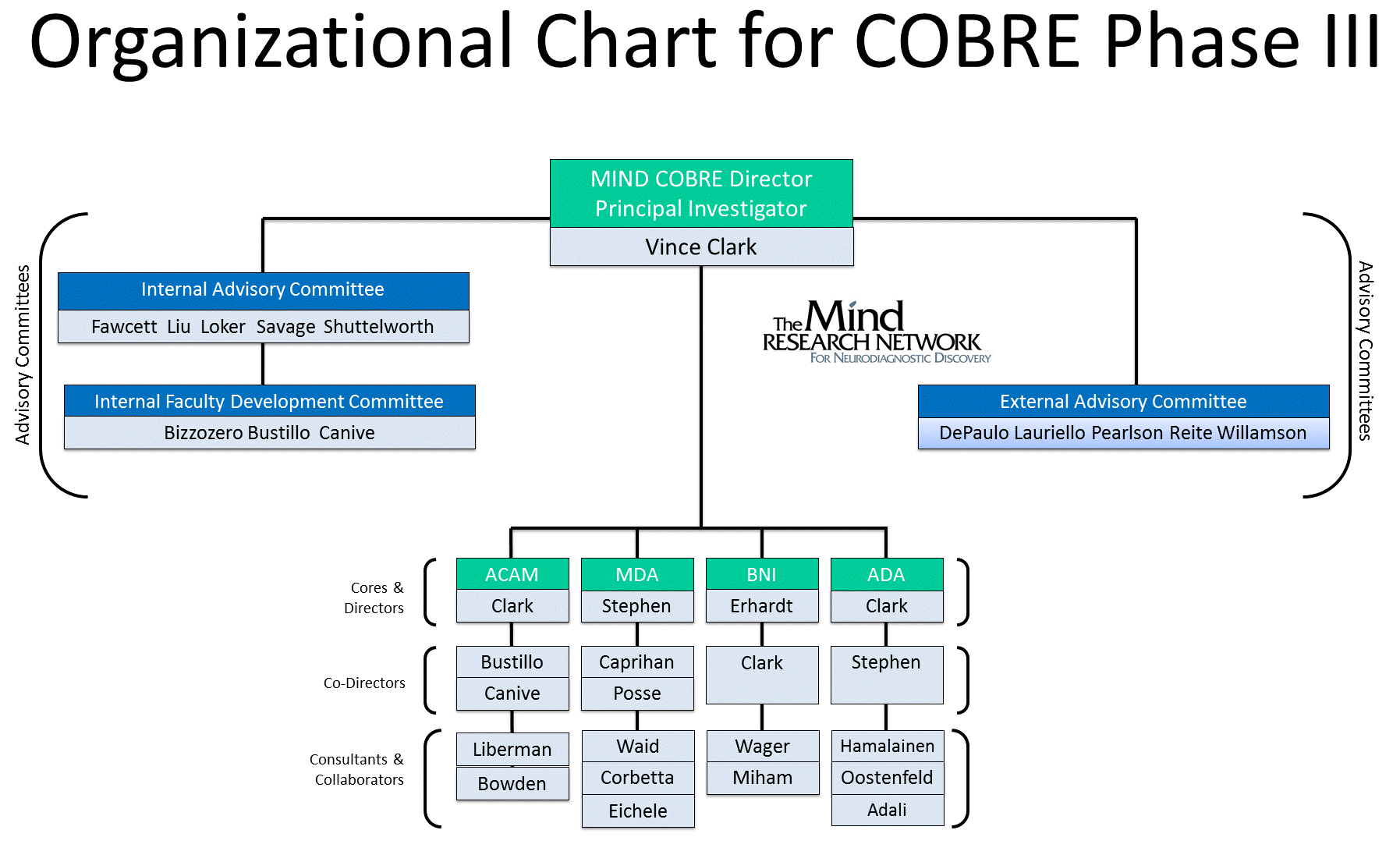 Copyright © 2019 The Mind Research Network.
A 501(c)(3) Non-Profit Organization