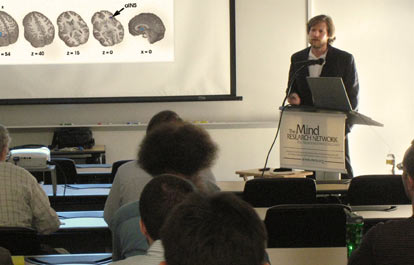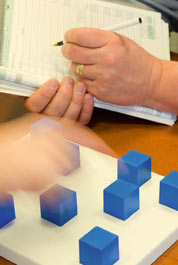 COBRE Phase 2 - Projects and PIs //
Projects and PIs

The five projects focus on distinct, but related, aspects of psychosis and mood disorders.
Project 1 - Discriminating schizophrenia from bipolar disorder by N-way multimodal fusion of brain imaging data.
Project 2 - Combined effects of SNPs and CNVs on brain structure in patients with schizophrenia and bipolar disorder.
Project 3 - Neurobiology of social emotion and cognition in psychosis
Project 4 - Transcranial direct current stimulation for treatment of auditory verbal hallucinations.
Project 5 - Multi-modal imaging investigation of electroconvulsive therapy response in late-life depressive episodes.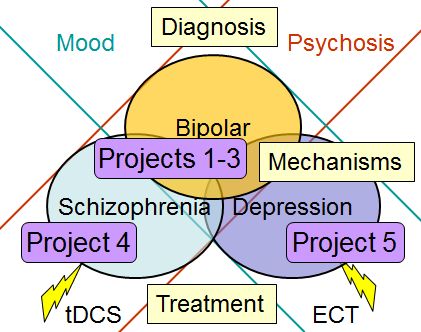 Project
Project Leaders
Mentors
Projects

1

Jing Sui, PhD

Vince Calhoun, PhD

Kent Kiehl, PhD

Discriminating schizophrenia from bipolar disorder by N-way multimodal fusion of brain imaging data

2

Jingyu Liu, PhD

Nora Bizzozero, PhD

Jessica Turner, PhD

Combined effects of SNPs and CNVs on brain structure in patients with schizophrenia and bipolar disorder

3

Carla Harenski, PhD

Kent Kiehl, PhD

Juan Bustillo, MD

Neurobiology of social emotion and cognition in psychosis

4

Robert Thoma, PhD

Jeff Lewine, PhD

Vince Clark, PhD

Transcranial direct current stimulation for treatment of auditory verbal hallucinations

5

Christopher Abbott, MD

Juan Bustillo, MD

Andrew Mayer, PhD

Vince Calhoun, PhD

Multi-modal imaging investigation of electroconvulsive therapy response in late-life depressive episodes
Copyright © 2014 The Mind Research Network.
A 501(c)(3) Non-Profit Organization