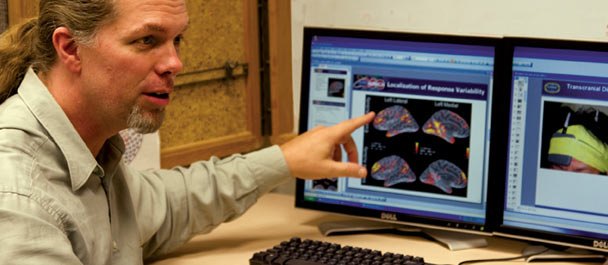 Transcranial alternating current stimulation to boost the efficacy of motivational interviewing //
Transcranial Alternating Current Stimulation to Boost the Efficacy of Motivational Interviewing
This study is testing whether non-invasive brain stimulation has an effect on psychotherapy sessions for alcohol use. For this study we are seeking individuals who live in the Albuquerque area who are 18-65 years of age, who drink alcohol on a regular basis, and are thinking about reducing their drinking. The study has three parts: 1) some initial online questionnaires; 2) a visit to our facility to complete additional questionnaires, undergo brain stimulation and a session with a trained counselor, and have two brain scans (magnetoencephalography and MRI); and 3) a short follow-up visit 30 days later. Study participants are paid for the time and inconvenience of being involved in the study, up to a total of $135.
This study involves in-person visits to our facility. Though safety procedures are in place, there is still a risk of contracting COVID-19 when humans interact with one another. You can choose to revoke your consent and withdraw from the study without penalty, for any reason, including if you feel unsafe at any time throughout the course of the study.
For more information about the study or to find out if you are eligible to participate, please visit the study screening form. If you have questions please email us at tacs@mrn.org or call or text us at (505) 226-1847.