Principal Investigators //
---
Eric D. Claus, PhD
Associate Professor of Translational Neuroscience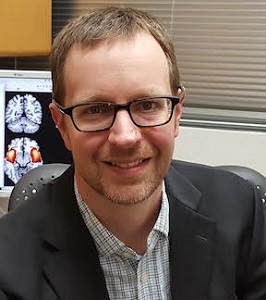 ​Dr. Claus focuses on addiction research, with an emphasis on the cognitive neuroscience and genetics of alcohol and nicotine dependence. His research aims to understand the cognitive and motivational mechanisms by which addictive disorders emerge and how the brain changes over time with increased exposure to drugs of abuse. In addition, his research uses intravenous alcohol administration to better understand how cognitive functioning is impaired when individuals are intoxicated and how these impairments may lead to increased risk for developing alcohol dependence.
Dr. Claus is also interested in developing neuromodulatory approaches such as brain stimulation and real-time fMRI to supplement currently available treatments for substance dependence.
Effects of Chronic Alcohol Use on Neurocognitive Function
Chronic alcohol use is known to affect the structural integrity of the brain, which is believed to contribute to poor cognitive functioning and may lead to worse treatment outcomes. The goal of this area of research is to identify the key changes that occur both the behavioral and neural levels as a result of chronic alcohol use. Once these changes are identified, it may be possible to use neuromodulation techniques to improve functioning in damaged regions in order to supplement current treatment approaches.
Sensitivity to Intravenous Ethanol
This project aims to identify neural, psychophysiological, and behavioral markers of alcohol sensitivity, and to understand the relationships between these measures and those obtained through questionnaire-based self-reports. In order to understand these relationships, we will use intravenous infusion of ethanol to achieve and maintain a constant breath alcohol concentration in participants while they complete tasks of response inhibition and cue reactivity while undergoing fMRI. The findings from this project will help to refine the endophenotype of alcohol sensitivity for use in future studies that investigate the genetic basis of sensitivity.