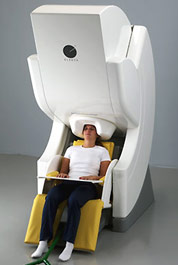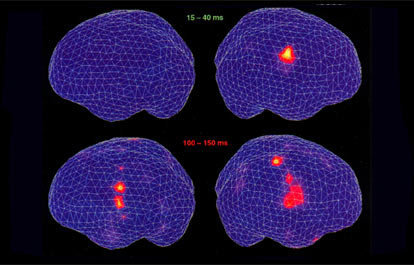 BRaIN and The University of New Mexico //
The University of New Mexico Biomedical Research and Integrative Neuroscience (BRaIN) Center is co-located in The Pete and Nancy Domenici Hall with The Mind Research Network.
The 11,000 square foot wing that houses the BRaIN was built with a construction grant from the NIH and an institutional match from the UNM. The center also includes a cellular and molecular core for analyzing brain tissue of animals studied with the neuroimaging tools. It is funded mostly by research grants from the NIH with an annual total funding level of $5 million. About 35 active investigators work in BRaIN, which specializes in neuroimaging research using animal models of human neurological and psychiatric disorders—complementing The Mind Research Network (MRN) which specializes on human neuroimaging research. The BRaIN has the following state-of-theart equipment and facilities devoted to neuroimaging research in animals:
4.7T 40 cm Bruker MR scanner for anatomical and functional MRI of small (mouse) and large (pig) animals
Electron Paramagnetic Resonance (EPR) scanner for 3D in vivo imaging of free radicals
Optical core with 2-photon laser scanning microscope, a photodiode array and DIC infrared systems for cellular studies of calcium regulation and population electrical activity
128-channel EEG system for in vivo electrophysiology
MicroSQUID, a high-resolution MEG system for in vitro and in vivo electrophysiology
Cellular and molecular core for analyzing the brain tissue of animals studied with the neuroimaging tools.
Surgical core for surgery of small and large animals
Satellite animal research facility for holding animals for longitudinal studies
UNM Departments of Neurology, Radiology and Psychiatry provide a full clinical infrastructure for the diagnostic development work performed by The Mind Research Network. The faculties in UNM School of Medicine (Neuroscience, Neurology, Radiology, Neurosurgery, Pediatrics and Psychiatry), College of Pharmacy (Pharmaceutical Sciences), School of Engineering (Mechanical, Computer and Electrical Engineering), College of Arts and Sciences (Psychology, Biology and Physics) facilitate the training activities at MRN, provide an academic home for many Mind researchers, and educate undergraduate, graduate and postdoctoral students with the academic training in conjunction with hands-on experience obtained at MRN.
The BRaIN specializes in integrative neuroimaging research in animal models using a combination of neuroimaging and cellular and molecular techniques. The BRaIN studies animal models of neurological and psychiatric disorders complementing the human neuroimaging research being carried out at MRN. The BRaIN has been helping the UNM and MRN researchers carry out MRI studies in animals to test hypotheses regarding mechanisms of schizophrenia and pain. The BRaIN and MRN have been also working together to develop new imaging tools such as oxygen-17 based fMRI and single-trial fMRI and MR spectroscopy. This partnership, along with UNM and Los Alamos National Laboratory have been using a combination of mathematical neural network models and experimental measurements of magnetic field, optical signals and electrical signals inside the porcine brain to establish the solid link using first principles between the electrical activity of neurons and functional MRI signals such as neuronal current, initial dip and BOLD-based MRI.