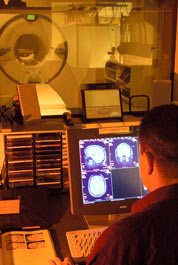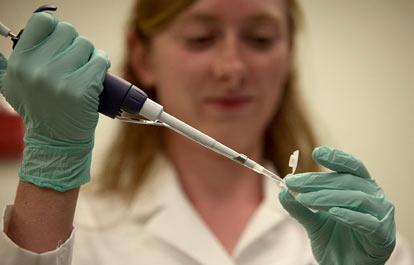 Other Neuroimaging Research //
Other Neuroimaging Research at MRN
With MRN's highly advanced tools and techniques, we have been able to expand the research scope beyond typical neuroimaging. A few of the specialized research areas include, oral orthotics, brain stimulation (TDCS), learning, memory, aging and research ethics. MRN's imaging services, capabilities and expertise allow our investigators the freedom to pursue groundbreaking research ideas.
Current Research //
Effects of Oral Orthotics on Brain Function
This project will be to examine the brain effects of a remarkable new form of oral orthotic that has been found to improve symptoms of a variety of motor illnesses, including dystonia, tremor, Parkinson's Disease, Tourette's Syndrome, and others. See our short film about this, "Reconnected". In the present studies, we are using fMRI to examine changes in brain networks caused by the use of oral orthotics, in order to better understand the neural mechanisms resulting in their beneficial behavioral effects in patients with motor illness.
Incidental findings in neuroimaging research.
Neuroimaging provides a tremendous amount of information to the researcher. It also uncovers findings in approximately a third of all research subjects that may not be related to the original research question, but may have medical relevance for the individual. Ethical principles need to be considered when deciding how much and by what method research information is offered directly back to subjects who volunteered for the research project. Our multidisciplinary collaborative group is studying the effect of providing all research subjects with an official reading of their MRI scan, probing relationships between key ethical principles such as beneficience, subject autonomy and justice. Our goal is to contribute to the national discussion regarding incidental findings in research.
Biomarkers for White Matter Injury in Mixed and Vascular Cognitive Impairment
Another fate that awaits most of us, as we enter the latter decades of our lives, is cognitive decline. Whether this is a normal loss of memory or cognitive "processing speed" that we learn to manage and live with or a more serious loss of cognitive function, as in Alzheimer's disease or any of the many forms of vascular dementia, depends on factors that are not well understood at present.
The project Biomarkers for White Matter Injury in Mixed and Vascular Cognitive Impairment, led by Dr. Gary Rosenberg, is aimed at combining several clinical and neuroimaging measures to arrive at a better differential diagnosis of vascular dementia, to help guide the development of treatments, as well as to discover more about the underlying pathologies of the different forms of the disease. Early results from this project have been reported in Taheri et al., Blood-Brain Barrier Permeability Abnormalities in Vascular Cognitive Impairment, Stroke, 42(8):2158-63 (2011). A preliminary report of our neurochemical findings (Gasparovic et al., submitted, 2012) demonstrates that NAA and total creatine are more strongly related to cognitive function in subjects with vascular dementia than is ischemic lesion volume.